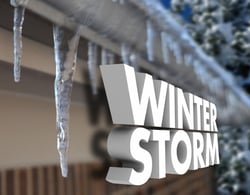 Winter storms often come with extremely low temperatures and also strong winds, icing, and sleet. This makes them hazardous and dangerous.

Regardless of how severe an expected storm might be, you should always be prepared.
Know the Difference
Regardless of the severity of a winter storm, you should be prepared in order to keep you and loved ones safe. According to the Red Cross, winter storm preparedness advisories include:
Winter Weather Advisory - Winter weather conditions are expected to cause significant inconveniences and may be hazardous. When caution is used, these situations should not be life threatening.

Winter Storm Watch - Winter storm conditions are possible within the next 36 to 48 hours. People in a watch area should review their winter storm plans and stay informed about weather conditions.

Winter Storm Warning - Life-threatening, severe winter conditions have begun or will begin within 24 hours. People in a warning area should take precautions immediately.
Winter Storm Tips
When heavy snow and ice is in the forecast, remember these tips to help keep you and your loved ones warm:
Change your filters now, before your system goes into overdrive. This also helps with airflow putting less stress on your system.
Use space heaters and ceiling fans to further disperse heat throughout your house.
Clear all snow and ice off of your outdoor units if you can, as this allows for much better air flow.
Close off rooms that are not being used, and place door draft stoppers under the doors to further contain the heat in your home. A rolled towel can also act as a draft stopper.
Consider buying a protective cover for your outdoor faucet; these are often the cause of frozen lines.
Keep all indoor plumbing lines running at a drip - a burst pipe is no fun to deal with.
Bundle up; layering is very effective.
Nothing is worth having a an accident in inclement weather. Stay off of the roadways as much as possible.
If you find yourself in a heating emergency without heat, contact Total Comfort Mechanical for assistance. We will get your system running and get you back in Total Comfort.
Read more ...
This entry was tagged Heating, Heat, Storm, Winter and posted on February 15, 2016