Energy Recovery Ventilation - Burlington MA
Humidity Controls / Duct Cleaning & Sealing / Air Cleaners & Purifiers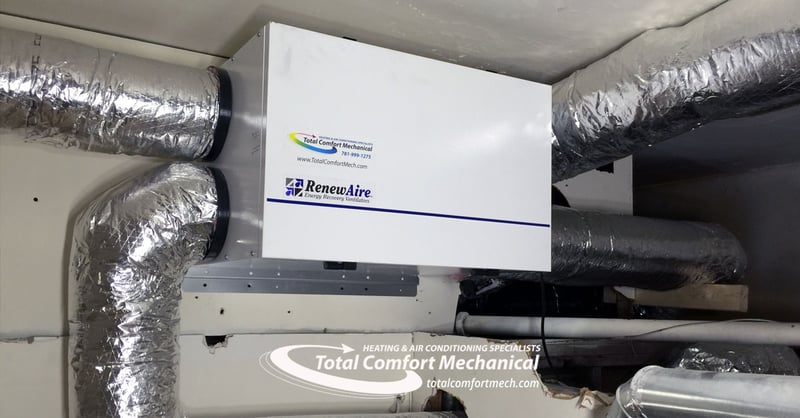 Energy Recovery Ventilation (ERV) systems deliver fresh air to a home's interior, bringing equal amounts of healthier, fresh air into your home while exhausting the same amount of air out.
As buildings and homes become more airtight, the need for effective ventilation is increasingly important. The average family spends 90% of their time indoors! Without proper ventilation, internally generated contaminants build up and cause poor indoor air quality.
Unlike opening a window, an ERV system keeps the air fresh without introducing pollen, dust and other allergens inside. During summer, the system pre-cools and dehumidifies while humidifying and pre-heating in the winter months.
Indoor air contaminants are plentiful and come from different places. These include dust mites, mold, humidity, asbestos, carbon dioxide, radon and other toxic gases and vapors, to name a few. Many of them are emitted from sources inside the home, such as construction materials, furniture, fabrics, carpets, cleaning supplies and even indoor occupants.
RenewAire ERV products provide the very efficient delivery of fresh air while removing unhealthy stale air, including odors and other harmful gaseous pollutants, regardless of the time of year.
How an ERV Energy Recovery Ventilation System Works
During the cold Massachusetts winter, ventilation air is pre-heated and humidified using the comparatively warmer and wetter exhaust air. ERV reduces the amount of cold air entering the house around doors, windows, and other leaks, all of which can give you a cold, uncomfortable feeling.
On the flipside, during the summertime, hot and humid ventilation air is pre-conditioned using the relatively cool and dry exhaust air. All of the ventilation air brought into your home is directed into your central air conditioning ductwork.

Airstreams are physically separated by plates that transfer only heat and humidity and no other pollutants.

ERV systems recapture most of the energy that would otherwise be lost through ordinary ventilation in the most consistent, controlled, safe, and energy-efficient manner possible.
Balanced ventilation decreases the possibility of condensation at points where hot air meets cold air within the home, preventing growth of unhealthy mold and mildew.
Benefits of Energy Recovery Ventilation Systems
In addition to the improvement of indoor air quality, other benefits of ERV include:
Minimal noise: ERVs run extremely quietly so noise is never an issue
Moderation of temperatures and humidity: Comfortable temperatures and humidity levels are continuously maintained by ERVs
Simple to use: Many Burlington MA homeowners like ERVs because the controls are
simple, intuitive and provide different operation options
Energy Recovery Ventilators are built for long service life and require very little maintenance. They also reduce heating and cooling loads, which cuts down on energy consumption and costs.
ERV products are available in many convenient sizes so your Total Comfort specialist can properly size a unit that precisely meets your needs. From the small residential home, apartment or condominium to large residential homes (up to 6000 sq. feet).
Contact us to schedule an appointment or request a quote on ERV solutions for your home.