After World War II, air conditioning manufacturers in the U.S. were excited to cash in on Japan's sweltering summers. That's when air conditioners were first introduced to Japan.
The Japanese absolutely loved the idea of Air Conditioning, but...
Home and building owners in Japan were deeply disappointed. Mitsubishi's early A/C systems could not be used in Japan for a few interesting reasons.
Japanese homes were famously small, thin walled and tightly clustered together. Not a good match for loud, droning AC's and their massive, bulky duct work.
Also, Japan's energy costs were sky high then. That alone meant doom for the earlier, energy hogging AC's.
Japan's response? Revolutionize the Air Conditioner
Again, the Japanese adored the idea of AC's, so their manufacturing engineers quietly went to work.
In 1959, Mitsubishi finally succeeded in reinventing air conditioning. They introduced the Ductless Mini Split Heating and Cooling System.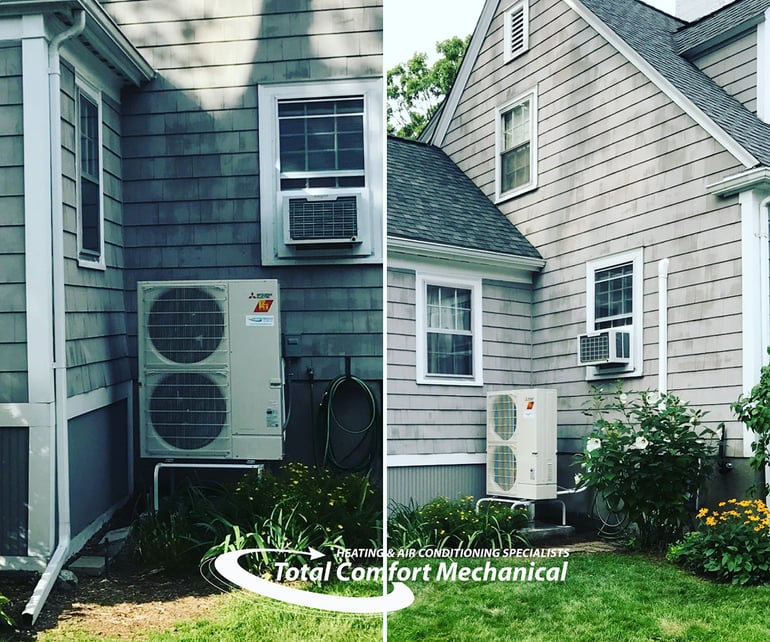 (Almost) All the world loved it
Mitsubishi's "split" technology enabled each room to have its own temperature zone, eliminated bulky duct work, ran quieter and was much more energy efficient.
In time, the popularity of these unique systems spread across Europe and other parts of the world...but not here in the United States. Distributors said no.
Mitsubishi mini splits finally make it in America
Decades later, Mitsubishi's AC marketers became savvier at directly educating U.S. consumers. The response was dramatic. Now, hundreds of thousands of ductless mini splits are sold in the U.S. every year.
Continuous improvement
Manufacturers continuously advanced their ductless technologies - with Mitsubishi leading the pack. The latest systems are far more energy efficient. They're quieter still, run cleaner and they meticulously filter out allergens.
When reviewed, HVAC contractors and homeowners consistently give high marks to Mitsubishi's ductless systems.
Total Comfort Mechanical has installed over 1,000 Mitsubishi mini splits
...and requests continue to surge because Mitsubishi systems
Run quietly
Conserve space
Use less energy
Save money
Are highly reliable

Best uses for ductless mini splits
Older homes without space for duct systems

New additions

Underutilized rooms

Garages, basements and attics
Picture your home with quiet, ductless, zoned heating and cooling
If that looks good to you, we'll pass along financing and tax credit information to help you save money. We'll expertly plan and affordably price custom solutions for your home or business.
Our expertise increases with every installation. You'll love experiencing our team's expert workmanship, but not as much as you'll love the quiet and air quality of your state-of-art system.
Contact us at totalcomfort@live.com or call (781) 697-9016
Read more ...
This entry was tagged Energy Efficiency, AC, Ductless, Air Conditioning, Air Conditioner, Mitsubishi AC, MiniSplit, Ductless AC, Mitsubishi and posted on January 10, 2019