Are high utility bills getting you down this summer? Keeping your Massachusetts home air-conditioned and comfortable can be expensive. Everyone's trying to beat the sweltering July and August heat and energy consumption is high. The good news is there are actually some very simple things you can do to keep costs down without investing a fortune.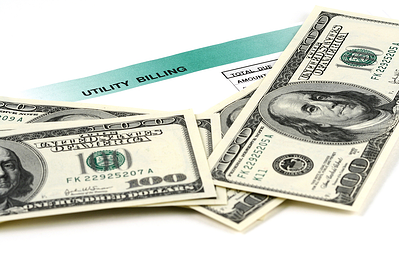 Turn off ceiling fans when not in use
Some people believe that keeping a ceiling fan running all the time, even when the room is unoccupied, will keep the room cooler than if turned off. While they do help circulate air, ceiling fans have no effect on the temperature of the area. They simply redistribute already conditioned (or unconditioned) air and make it feel cooler because it's creating a breeze against your body. Leaving the fan on while the room is empty will not make the room any cooler upon your return. Turn them off when leaving a room to prevent wasted electricity.
Go Green

(and not the way you're thinking, either)
We're talking actual green in color - whatever shades appeal to you : forest green, emerald green, moss or fir. Adding more trees and bushes to your home's exterior not only provides a more beautiful landscape, but can considerably block the amount of solar heat beaming on the roof and through the windows. All that heat makes your air conditioning system work harder. In addition, if the air conditioning unit itself receives shading from trees or shrubbery, it can improve your AC's effectiveness up to ten percent!
Massachusetts lies in the "temperate" area on the US Dept. of Energy's climate region map. Unlike the hot and arid Southwest and hot and humid Southeast, energy-saving landscaping strategies for this area must be balanced - keeping heat out in summer and keeping it in during winter months (see more at Landscape for Life).
Get with the Program...
...with a digital programmable thermostat (DPT)! Smart and relatively inexpensive, DPT's allow you to adjust the settings for a higher temperature when no one's home or during cooler parts of the day. With today's technologically-advanced controls you can truly set it and forget it, and even manage your home's central air conditioning system via mobile device. (Side note to self: if you're reading this article on a smartphone and you still don't have a digital t-stat yet, you should be embarrassed.)
Chill Out Down Under
If your home has a basement, why not convert it into a summer family room or hangout? Naturally cooler than the rest of the home, the basement can provide instant relief on a hot day. Be careful about opening basement windows though, especially during very hot and humid weather. Damp, tropical air can cause surface condensation which will increase indoor humidity as well.
To be absolutely certain you are obtaining optimal efficiency from your home's A/C system, schedule a system maintenance check with us. We will check multiple factors to ensure all air conditioning system components are operating properly, that the system is meeting the manufacturer's expectations for efficiency, and recommend alternatives if not.
Read more ...
This entry was tagged Burlington MA, Tips, Energy, MA, Efficiency, Air Conditioning, Massachusetts, Keep Cool, Energy bill and posted on July 18, 2014