Award reflects company's consistently high level of customer service
BURLINGTON, Mass. February 1, 2019 – Total Comfort Mechanical Inc. is proud to announce that it has earned the home service industry's coveted Angie's List Super Service Award (SSA). This award honors service professionals who have maintained exceptional service ratings and reviews on Angie's List in 2018.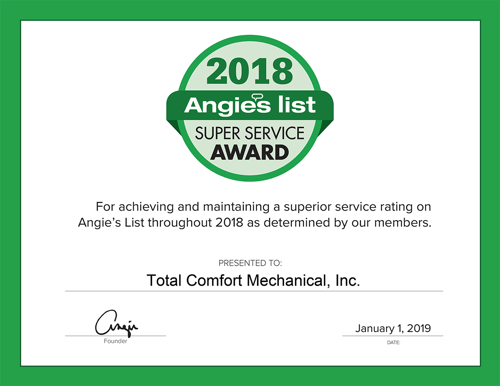 "Service pros that receive our Angie's List Super Service Award represent the best in our network, who are consistently making great customer service their mission," said Angie's List Founder Angie Hicks. "These pros have provided exceptional service to our members and absolutely deserve recognition for the exemplary customer service they exhibited in the past year."
Angie's List Super Service Award 2018 winners have met strict eligibility requirements, which include maintaining an "A" rating in overall grade, recent grade and review period grade. The SSA winners must be in good standing with Angie's List and undergo additional screening.
"We are so very proud to receive this honor again this year," said Wendell DePaiva, General Manager. "To meet increasing customer volume and demand, we made the move to a more centralized location in 2018 to better serve our customers. Receiving the Super Service Award once again confirms our commitment to them."
Total Comfort Mechanical has been listed on Angie's List since 2011. This is the sixth year Total Comfort Mechanical received this honor.
Service company ratings are updated continually on Angie's List as new, verified consumer reviews are submitted. Companies are graded on an A through F scale in multiple fields ranging from price to professionalism to punctuality.
For over two decades Angie's List has been a trusted name for connecting consumers to top-rated service professionals. Angie's List provides unique tools and support designed to improve the local service experience for both consumers and service professionals.
###
About Total Comfort Mechanical:
Founded by DePaiva in 2009, Total Comfort Mechanical has provided outstanding customer service for a decade through their team of highly experienced and committed professionals.
Total Comfort Mechanical offers a wide range of heating and cooling services and specializes in energy-efficient indoor climate options, with a focus on ductless heat pump and air conditioning installation.
The company serves Burlington, Massachusetts and the surrounding cities of Arlington, Bedford, Billerica, Lexington, Wilmington, Winchester, and Woburn. Visit their website at www.totalcomfortmech.com.
Read more ...
This entry was tagged Heating contractor, AC, Burlington MA, Energy, Heating, MA, Air Conditioning, Massachusetts, Heat Pumps, MiniSplit, Ductless AC, Angie;s List, Award, HVAC, Furnace, Reviews and posted on February 04, 2019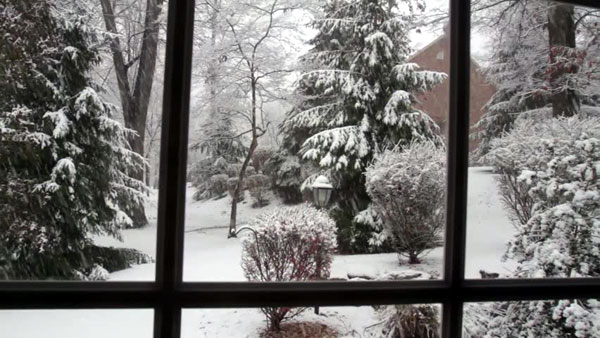 Regular maintenance of your heating and air conditioning system allows minor repairs to be caught before they become major, costly replacements. However, even the best-maintained furnace cannot and will not last forever.
The average furnace life span is approximately 15 years. While the equipment may last that long or even longer, it's likely that your heating bills are higher than they need to be. Components break down and all furnaces lose their efficiency over time.

Factors to consider
Age of the system – If it's over 12 years old, it's most likely time to replace

Extent of existing problems – whether recent repairs have been minor or extensive and costly

Size of unit – Is the current system over or under-sized for your home? This can lead to premature failure.

Frequency of repairs

Efficiency Rating
Investing in a new furnace in this year could be one of the best decisions you make! Here's why: Efficiency standards for all heating and cooling units sold in the United States are regulated by the U.S. Department of Energy. Every heater, air conditioner and heat pump is assigned one of these efficiency ratings.
For gas or oil-fired furnaces, the Average Fuel Utilization Efficiency rating (AFUE) is the standard measure of seasonal efficiency. The AFUE rating is given as a percentage, indicating how much fuel is used to heat your home and how much fuel is wasted.
High-efficiency furnaces, like those that are ENERGY STAR certified, have AFUE ratings of 95% or above. This means that the furnace converts 95% of the fuel that you supply to heat your home - the remaining 5% is lost out of the chimney. Furnaces that are over 10 years old could have an AFUE somewhere around 60%, meaning you could save up to 40% on your gas or oil heating bill by replacing it with a new, high -fficiency furnace!
Save even more with Furnace Rebates
Massachusetts residents have an opportunity for additional savings when replacing their heating and cooling system. Mass Save offers rebates on the purchase and installation of residential heating and cooling equipment that meets certain energy-efficiency specifications.
In addition to lower energy use and improved comfort for your Burlington area home, you may be eligible to receive rebates on the following equipment types:
Central Air Conditioning/Heat Pumps

Furnaces

Mini-Split Heat Pumps

Thermostats
If you purchased an ENERGY STAR certified gas furnace in 2016, it will meet the requirements for the Federal Furnace Tax Credit. All other ENERGY STAR Federal tax credits expired at the end of 2016.
Don't Ignore the Warning Signs
Are you noticing odd sounds coming from the furnace? Does it seem colder in the house than last winter? Maybe the pilot keeps going out. Don't wait - call for a check-up now.
Winter will be over in a couple of months, you say. You'll be shutting the furnace down for a long stretch, so why deal with calling for repairs, right? WRONG. Repairs should always be done at the earliest possible time so the problem will not have the opportunity to worsen.
When you decide to get a new furnace, the best course of action is to call in a certified professional to calculate the correct type of furnace you need, and the one that will keep your home heated effectively and efficiently all season long.
All Total Comfort Mechanical systems, accessories and products are installed with a dedication to quality and reliability. Whether you choose to make repairs or replace your system, you can expect to receive Total Comfort for your home and family.
Read more ...
This entry was tagged Energy Efficiency, Energy Rebates, Heating, Energy Star, Heat Pumps, Heat, Energy bill, Replacement, Furnace and posted on January 30, 2017