What is a Ductless Mini-Split air conditioning system? Only one of the hottest-selling cooling systems in the country - Massachusetts included! A trend that took Europe by storm and is now heading westward, these modern, energy-efficient and stylish air conditioners have become such fast sellers that Mitsubishi is challenged to keep up with the growing demand.
Mitsubishi, the world's top-selling brand of ductless cooling and heating systems, experienced a complete sell-out of its 2013 U.S. inventory well before the end of last year. This caused limited availability and back-orders with Mitsubishi Diamond HVAC specialists throughout the United States.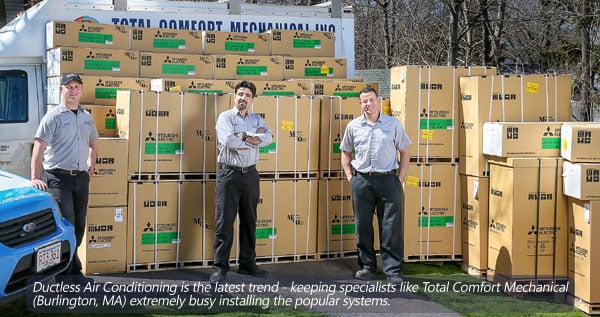 Nearly six weeks ago, the out-of-stock inventory was made available again and has been flying off the shelves ever since. "Heating and air conditioning specialists" Total Comfort Mechanical of Burlington, MA happily announced the new 2014 mini-split systems were back in stock and contacted their customers to arrange installation to those that had been anxiously awaiting their new Mitsubishi ductless mini-split systems.
The ductless mini-split wave is keeping HVAC contractors extremely busy. "We can hardly keep up with the demand", said Total Comfort Mechanical owner Wendell DePaiva. "We've had so many requests for ductless installs that we completely wiped out our inventory in just a few weeks," DePaiva said, "but we have already restocked and are ready to install."
It seems Massachusetts residents are some of the most energy-conscious the country - the U.S. Green Building Council recently ranked the state #4 in the top 10 list of states leading the nation in green building.
How Ductless Mini-Split Air Conditioners Work
Like central air conditioners, ductless units have a split design and don't require a complicated system of ducts. The split system (also called a mini-split, ductless split, or duct-free system) has at least one indoor unit in the home or office (this is the evaporator) and one outdoor unit (the condenser). Line sets, which are copper tubes of refrigerant, are run to the indoor unit from the outdoor unit.
The indoor component can be mounted on the ceiling or the wall and are extremely quiet when in operation. Read more about ductless ac systems here.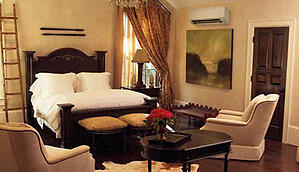 With the booming popularity of ductless systems, the product selection is getting wider - many electronics manufacturers now offer their versions of ductless appliances. Considering that many smaller brand names typically don't specialize in heating and cooling solutions, it's important to note that it can be a challenge to find qualified technicians to install and service them.
The specialists at Total Comfort Mechanical recommend sticking with a trusted, industry leader that provides a solid warranty on their product and has a network of certified and trained Diamond Contractors to perform the installation and service. "It's smart to get a few estimates from qualified and certified HVAC contractors before making the investment," DePaiva advises.
Check with your local Better Business Bureau or other local chamber organizations to learn about the reputation of the heating and air conditioning contractors in your area. Burlington MA residents and neighboring MA cities can request a quote or more information on ductless AC solutions here or the following link:
Related Ductless MiniSplit articles:
---
Read more ...
This entry was tagged Energy Efficiency, Energy Rebates, Ductless, Burlington MA, Air Conditioning, Air Conditioner, Mitsubishi AC, MiniSplit, Ductless AC, Mitsubishi and posted on April 08, 2014

Finally there's some good news from Washington DC. Relief has been provided to homeowners that have made energy efficiency improvements in 2013 or plan to invest in such improvements this year.
While representatives haggled over the notorious "Fiscal Cliff" earlier this year, Congress voted to extend the popular Federal tax credits for Consumer Energy Efficiency. This serves as an incentive to upgrade systems in existing homes by installing energy- efficient air conditioning systems, heat pumps and hot water heaters. Other improvements such as roofing, windows and insulation may also qualify.
The tax credit amount varies depending on the type of energy-efficient heating and air conditioning component(s) installed. To be eligible, the products must be installed in a home that you own and serves as your primary residence.
Central Air Conditioning products must meet certain minimum Seasonal Energy Efficiency Rating (SEER) or Energy Efficiency Ratio (EER) to qualify. Heat Pumps are given a Heat Seasonal Performance Factor (HSPF). The higher the SEER, EER or HSPF, the more efficient the system is.
Which heating and air conditioning improvements are eligible for the Federal tax credit?
Central Air Conditioning Systems (CACs)
Split Systems (outdoor compressor, indoor evaporator coil and air handler) 16 SEER, 13 EER or above
Package Systems (all-in-one outdoor pack) rated 14 SEER, 12 EER or above
Tax Credit amount: 10% of cost, maximum credit: $300.00
Geothermal Heat Pumps
Air Source Heat Pumps
Split Systems with a minimum 8.5 HSPF, 12.5 EER, or 15 SEER
Package Systems with a minimum 8 HSPF, 12 EER, or 14 SEER
Tax Credit amount: 10% of cost, maximum credit: $300.00
Natural Gas, Propane or Oil Furnaces and Boilers
Must be rated AFUE (Annual Fuel Utilization Efficiency) 95% or above
Tax Credit amount: 10% of cost, maximum credit: $150.00
Most of the tax credits allow inclusion of the cost of installation in the eligible amount, but there is a lifetime maximum credit allowance of $500.00. If you have or plan to install energy-efficient products, call Total Comfort Mechanical Heating and Air Conditioning in Burlington, MA – to consult with professional HVAC experts and find out if any other rebates are available. Be sure to also consult a tax advisor for specific details when filing your tax r
Read more ...
This entry was tagged Energy Rebates, AC, Ductless, Pumps, Air Conditioning, Heat Pumps, MiniSplit, Heat, Energy Tax Credit and posted on June 06, 2013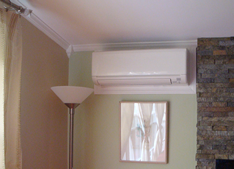 Mr. Slim Ductless Mini Split AC installed
Ductless air conditioning is quickly gaining popularity in the US, as it is in Europe and Asia over recent years – for many reasons. A Ductless (mini-split) AC unit is an efficient and affordable alternative to the traditional central heating and air conditioning systems that require a network of duct lines to circulate air.
In older homes that have no ducts or a newly-built home that doesn't use forced-air heat (with no ductwork), installing a central A/C system can be extremely costly. Opting for a ductless air conditioner or even multiple units to cool different zones in the home is a more affordable solution.
Multi-zone outdoor units connect more than two indoor units, providing individualized comfort control to different areas within the home. For example, the Mitsubishi Ductless outdoor multi-zone units can be configured for as many as four or more individual ductless air conditioning units. Mini-split systems also are excellent for sun rooms and homes with hydronic heating.
Ductless indoor units (also known as ductless mini-splits) can also be controlled with convenient remote controls – both wireless and wall-mounted programmable touch-screen thermostat controls and WI-FI.
7 benefits of Ductless Air Conditioning: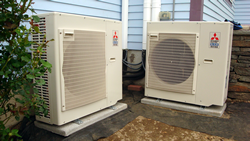 A multi-zone ductless AC installation in Lexington, MA
Energy- efficient technology, Environmentally-friendly
Easy to install & operate
Compact in size
Quiet Operation
Allergen Filtration
Precise and total Comfort Control
And number 7, they save money. Ductless air conditioning uses less energy than traditional air conditioning systems, which can dramatically reduce your energy usage. For zoned systems, you can control individual room temperature and only use energy where and when you need it!
Consult with an HVAC professional to determine if a ductless air conditioning system is a viable option for your home and to get recommendations on which product options are right for you. Diamond Contractors that specialize in ductless A/C system installation and trained experts like those at Total Comfort Mechanical in Massachusetts can give you a quick estimate and also find out if any other rebates and tax credits are available.
Read more ...
This entry was tagged AC, Ductless, Air Conditioning, Air Conditioner, MiniSplit, Lexington MA and posted on May 28, 2013